"Air Conditioner" Designed for the Mobile Phone
Black Shark FunCooler
Compact | Cools in seconds | Ultra Quiet | Adjustable Size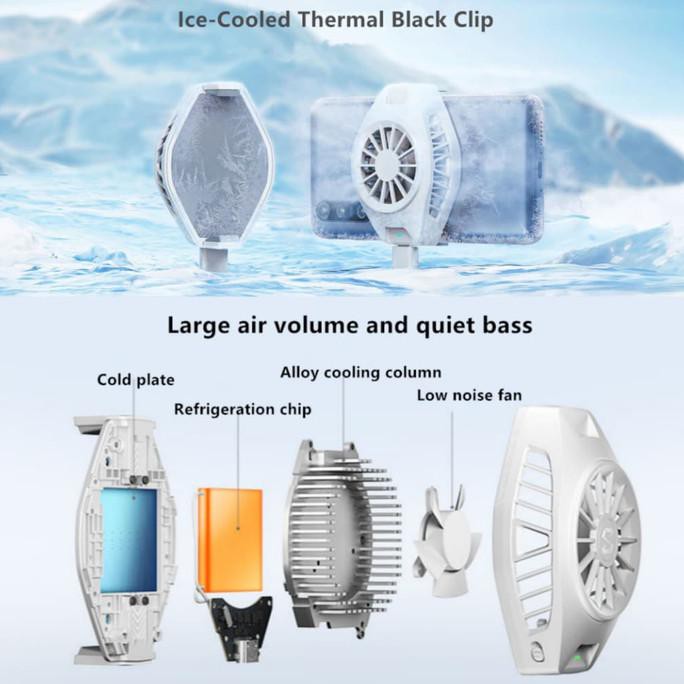 Icy Look, Icy Feel 
Temperatures drop seriously fast after switching on the FunCooler. The thermoelectric cooling system can chill the Funcooler down by 15℃ in just one minute, stabilizing at 5℃ in a 25℃ environment 1  
Sleek and Portable
With 91 metal alloy heat dissipation columns packed into a tight frame, the device is well crafted but also super portable. The pearl white color and frame shape design is inspired by spacecrafts.

Air ducts on either side of the FunCooler allow rapid air circulation to the fan, driving away heat from the cooling system.  
High airflow | Quiet and Stable 
Equipped with a 5 leaf fan that can rotate at speeds up to 6000rpm, the fan delivers massive airflow to the cooling plate. The sound from the fan is as low as 30dB* when in operation so you can voice chat, live stream and use your speakers without noticing the fan. 
Cooling plate 
Cooling chip
Alloy heat dissipation column
Low noise fan
Fast & Secure Fit  
The spring loaded mechanism allows you to quickly snap the FunCooler on. Silicone non-slip mats give a constant and firm grip to either side of the phone while protecting the phone surface.
Plug and play Type-C
Specifications
Equipment Name: Funcooler 
Model: BR11
Connection: Type-C interface
Supported Equipment: All equipment 67-88mm wide are supported.
Package Contents:  FunCooler * 1, Manual * 1
Free shipping
Free shipping for RELX orders over $109, for other products over $39.
Only deliver to U.S.
Guaranteed Service
7-day return and refund warranty
Secure shopping
You're in safe hands
Trendy Hunting Care
Online customer support